In And Around Berwick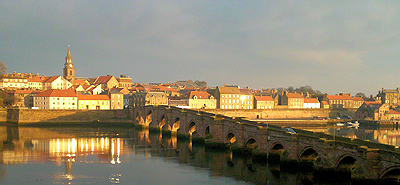 This section starts off with a quick tour of Berwick.
Clicking on the small pictures will enlarge that image and display a description below. Click the thumbnail panel numbers to display the next set of images.

Don't forget to view the video about Berwick and view the panoramas
Berwick upon Tweed
Berwick upon Tweed is completely encircled by one of Europe's finest preserved Elizabethan fortifications. A one and a half mile walk around the walls affords fine views of the town, the sea and the River Tweed. Berwick changed hands between England and Scotland at least thirteen times in over 300 years of border warfare. Berwick is now part of England in the county of Northumberland. The Scottish border and the county of Berwickshire lie about a mile north of the town. The River Tweed, however, is governed by Scottish law despite the fact that its last few miles lie within England.

An insight into the military background of the town can be gained by visiting the Berwick Barracks museum which is housed in Britain's first purpose built army barracks. The site also houses Berwick's borough museum and is open from Easter to October.
The Town Hall museum offers two tours a day suring summer, with visits to the former cells and courtroom.
The artist L S Lowry was a frequent visitor to Berwick, the town inspiring some of his finest works. After walking around the walls, a more detailed understanding of the area can be gained by following the Lowry Trail, which encompasses Tweedmouth and Spittal to the south of the River Tweed as well as Berwick itself.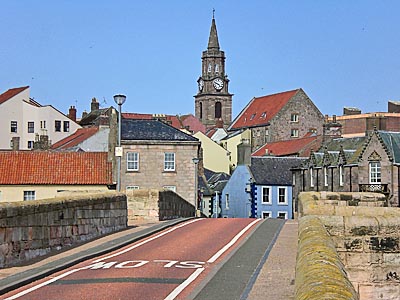 Berwick Guildhall viewed from the Old Bridge
More Infomation about the Area
The following are electronic versions of leaflets or booklets
North Northumberland Tourism Association Visitors Guide - places to visit, where to eat, guide to accommodation and an excellent introduction to Berwick and the surrounding area. Well worth downloading and reading.
Historic Border Bridges - a guide to the history and construction of nine bridges in the Berwick area.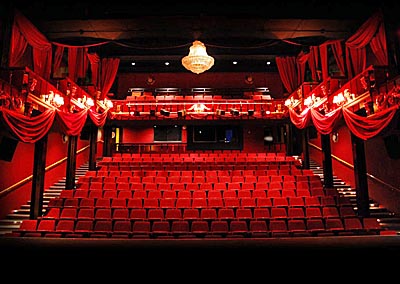 Other recommended websites
Northumberland Coast - A Visitor's Guide
Berwick Borough Council tourism site
North Northumberland Tourism Association
The Barn at Beal, including Birds of Prey Centre
Ford and Etal - lots to see and do including a light railway and working watermill.
Find late availability in the North Northumberland area
Barter Books A very large second hand book shop in Alnwick
Local producer of high quality ice cream and cheese
Northern Experience Wildlife Tours - local wildlife tours
St Cuthbert Farne Island Boat Trips Boat trips from Seahouses
A quick word of warning for those making further web searches: A few miles up the coast towards Edinburgh lies the small town of North Berwick. This is not the same place as Berwick upon Tweed!
To make a booking please send an email
Other Links
Alternate website for Ness Street
Ness Street Holiday Cottage, Ness Street, Berwick upon Tweed, Northumberland TD15 1HY. Tel 01289 318069