Travel to Berwick by Train
Enjoy a low carbon footprint Green holiday.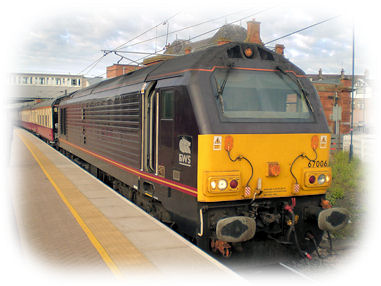 You don't need a car to enjoy a holiday in Berwick upon Tweed. Ness Street holiday cottage lies about three quarters of a mile (about 1km) from the railway station. It is an easy walk, though you may wish to take one of the many cheap taxis if you have much luggage.
The cottage is within easy walking distance of the town's shops, including the Somerfield supermarket, which will deliver shopping (over £25) free of charge. The Green Shop on Bridge Street caters for those that enjoy organic food, and Fords the Bakers is recommended for fresh bread.
Berwick offers a wide variety of walks, from gentle strolls to the beach and a flat riverside path to long country rambles. The town's tourist information office sells several walking guides to suit all abilities.
Holy Island, or Lindisfarne, can be reached by a local bus service, though you need to check the timetable as the operating days and times depend on the tides. Local taxis are a cheap alternative.
If you bring a cycle, Ness Street has plenty of indoor secure storage. Berwick is also on national cycle route 1, also known as the Coast and Castles route.
Day Trips by Train
Alnwick Castle and Gardens, and of course the town of Alnwick itself, is a short hop south on the East Coast Mainline. Alnmouth station serves the town. A bus service meets the train for the 5 mile trip into Alnwick.
Edinburgh is well worth a visit, and the train is by far the best way of getting to Scotland's capital city. The journey from Berwick to Edinburgh Waverley Station takes about 45 minutes. On the way back make sure you catch a train to Berwick upon Tweed and not North Berwick. The latter is a small Scottish town at the end of a branch line.
Newcastle is again about 45 minutes from Berwick, but in the opposite direction. The Centre for Life science visitor centre is next to the railway station and makes an excellent day out for all ages.
Getting to Berwick by Rail
Berwick upon Tweed station is on the main London Kings Cross to Edinburgh mainline, and is served by a surprisingly large number of trains for a town of its size.
As well as National Express East Coast services, Berwick is also part of the Cross Country network. As you can see from the Cross Country Route Map and the East Coast Route Map, Berwick is served directly from a surprisingly large number of stations.
seat61.com is possibly the most useful site in existence for rail travellers.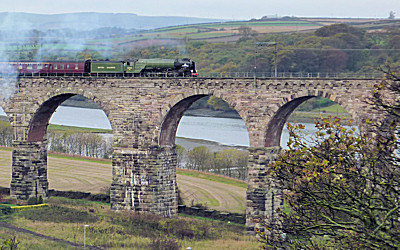 Tornado Crossing the Royal Border Bridge, October 2010
Ness Street Holiday Cottage, Ness Street, Berwick upon Tweed, Northumberland TD15 1HY. Tel 01289 318069