Luxury Holiday Cottage
Berwick upon Tweed - Northumberland Coast
Ness Street is a high quality four bedroom self catering holiday home located within the historic Elizabethan walled town of Berwick upon Tweed, on the Northumberland Scotland border.
Sleeps 2 to 8 with price reductions for smaller groups
The property lies within the town's conservation area and is a grade II listed building. The sea is less than a 100 yard walk away.
A free WiFi broadband Internet connection is available to guests.
Ness Street sleeps up to 8, but is equally suitable for smaller parties

Close to the sea, with local shops within easy walking distance
North Northumberland - Ideal for Long or Short Breaks
Berwick lies just south of the Scottish border at the mouth of the river Tweed. This Northumbrian town is an ideal touring base for the Borders area and the coastline, which has been designated as an area of outstanding natural beauty.

Edinburgh and Newcastle are both within easy day trip reach by either rail or road.

Comments from our very first guests
"Well, we are home again after a super holiday in your delightful house, in your fascinating town in one of our favourite counties! Our friends who were with us have said that they have never had a holiday so packed with activity and interest!
We all thought you had done a wonderful job with your house. It became the comforting punctuation marks in our activity filled week and that can mean a great deal to holiday makers who wear themselves out trying to extract the most from a delightful part of the country. As the week went on we did more exploring of Berwick itself and we found so many little architectural gems which were reluctant to shown themselves to casual observers. As for your house we were so impressed with the care you had taken in creating not just an attractive dwelling but a home-from-home. Your taste was much appreciated by us all and as your first visitors it is difficult to pinpoint anything which you might want to improve on! The internet access was a great facility which we used regularly, especially for emailing and Skyping. "
See more reviews..
Please be aware that Ness Street operates a no smoking policy both within the property and outside in the courtyard.
To make a booking please send an email or call 01289 318069 at anytime.
Berwick News...
Not a replacement for the Berwick Advertiser! This section details noteworthy items for the vistor to Berwick, North Northumberland and the Scottish Borders.
19th January 2015
Berwick celebrates 900 years of history.
Berwick 900 has something to offer for all ages and interests from traditional annual festivals such as the Riding of The Bounds, Berwick May Fair, Tweedmouth Feast,Spittal Seaside Festivaland Berwick Food and Beer Festivalsto parades, interactive performances, historical re-enactments and other special events being staged specially for the Berwick 900 celebrations. Admission to most of the events is free of charge.
The Festival runs from Easter to October and is based on a series of story themes, each of which has one of the town's annual events at its heart.
14th November 2014
2015 booking calendar and 2015 pricing now available.
28th October 2012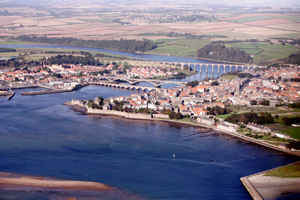 Added new photograph of Berwick upon Tweed photographed from the air.
10th June 2012
Webcam installed at Berwick Sailing Club overlooking the River Tweed
2nd April 2012
Derek Sharman's Time to Explore guided walks in Berwick begin this season on Easter Sunday and continue until the end of September.

The Town and Elizabethan Walls Tour starts at the Tourist Information Centre at 2.00pm every Sunday and at 10.00am and 11.45am on Mondays and Fridays.

The "Hidden Berwick Tour" starting at the TIC at 11.45am on Mondays and Fridays includes entry to one of the Elizabethan bastions, the Gunpowder Magazine and an 18th century ice-house, sites which are not usually open to the public.

These times will also usually apply to Tuesdays, Wednesdays and Thursdays, but will be cancelled occasionally to accommodate group and coach bookings. You are advised to telephone to check on times of tours for these days by telephoning Derek on 07960 062005 or contacting the TIC in advance for details.

The cost of the one and a quarter hour Town and Walls Tour is £4.50 per adult, accompanied children free. The charge for the hour and three quarters "Hidden Berwick Tour" is £6.00 per adult, including entry to the sites mentioned. There is no charge for accompanied children on any of the tours.

All the routes are easy walking, traffic free and accessible to all, although there are steps and uneven floors at some of the "Hidden Berwick" sites which may make that walk less suitable for anyone with walking difficulties.

Visit Derek's website for up to date information about all the Time to Explore tour guiding services.

3rd March 2012
Added a new page of aerial photographs of Berwick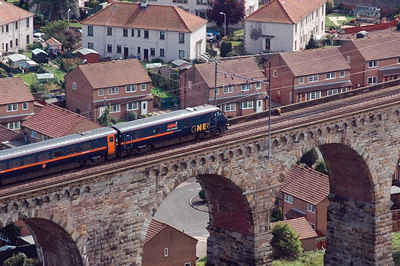 Image copyright Roger Keech
5th June 2011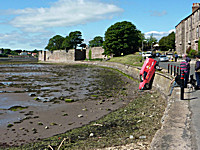 Royal Mail post van falls into the Tweed as hand brake is left off. Fortunately the van was unoccupied as it went in. Click image to enlarge
11th March 2011
Ness Street now has an Energy Performance Certificate.
3rd September 2010
Institution of Civil Engineers produce a leaflet about bridges in the area, including the Royal Border Bridge and the two road bridges in the town.
23rd June 2010
Geology Walks with Ian Kille
The rocks which form the beautiful coastline of North Northumberland not only tell fascinating stories about our ancient past but also explain why the landscape looks like it does now. By looking at the different types of rocks and by looking at the different fossils in them it is possible to build up a picture of what was going on all those years ago. Understanding the rocks is a bit like a crime investigation – there are many different types of clues to look at and understand, which lead to an insight into past events. Ian's walks are designed to help bring all of this alive.

There are three more free walks available in the series:
The Dikes and Sills of Dunstanburgh Castle on Monday 5th July 2:00 to 4:00
Hidden Volcanics at Bamburgh on Wednesday 4th August from 14:00 - 16:00
Giant tree ferns at Spittal on Sunday 12th September 13:00 - 15:00

There is more information about these walks visit http://www.northumberlandcoastaonb.or There will also be a more extensive article in this month's 'Northumbrian' Magazine

4th June 2009
Ness Street available for the August Bank Holiday week. Week commencing Saturday 29th August. August Bank Holiday: Monday 31st August 2009
26th May 2009
Panorama pictures of Berwick and the surrounding area added.
19th March 2009
Stephenson 150
A Festival celebrating Robert Stephenson
May - October, 2009
2009 marks the 150th anniversay of the death of the world-famous Victorian engineer, Robert Stephenson. Like his father George, of "Rocket" fame, Robert Stephenson was born and bred in Northumberland and became a major railway pioneer who helped establish the foundations of the modern railways.
The Royal Border Bridge, built at Berwick-upon-Tweed by Stephenson in 1850 is one of the greatest pieces of railway architecture in Britain if not the world.
Join us in Berwick-upon-Tweed for a year long celebration of the life of Robert Stephenson and the story of the railways in and around Berwick. There will be a series of railway and bridge-related events throughout the period of the Festival..
6th March 2009
New page about Holy Island (Lindisfarne) added to this site, with links to safe crossing times.
29th December 2008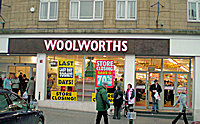 The last day of Woolworths in Berwick.
24th August 2008
Penguins surround Berwick Lighthouse
35 Penguins have surrounded Berwick's lighthouse. They turned up unannounced some time in August. Wild penguins are normally only found in the Antarctic, so this appearance is somwhat unusual. Three stragglers have also been sighted on the pier, with one on a bench.
15th August 2008
Ness Street has now teamed up with The Hollies to offer bed and breakfast accommodation in Berwick. The Hollies offers a superior ensuite room for up to two people. So if you want to stay for just a few days on the Northumberland Coast have a look here.
11th July
The Barn at Beal adds a birds of prey centre to its list of attractions. Please download this brochure to discover more.
7th June 2008
A televison drama series is to be set in Berwick. "A Free Country" is being written by Northumberland-born Tony Saint and developed by independent production company Great Meadow. The series, which will be split into six 30-minute episodes, is based around civil servant Philip Selby, who loses his post at the Foreign Office and returns home to Berwick, where a referendum is taking place to decide whether the town should be part of England or Scotland. But Selby proposes a third way – independence. The series is billed as tapping into hotly topical issues of devolution and self-determination and is said to ask fundamental questions about identity, coming home and taking the chance to do things differently.
17th May 2008
Actor and comedian Alistair McGowan has said that if he had to be stranded anywhere in the world he would choose Berwick. The impersonator's affection for the town and surrounding area was revealed in a recent Daily Telegraph article. "I passed it (Berwick) for years on the train on the way to the Edinburgh festival and always thought it looked beautiful so one year I got off on the way back from Scotland. The coastline is incredibly dramatic, it's a neat and friendly historic town and it also has a fantastic train line right by the sea."
16th May 2008
Claire Gogerty, editor of Coast Magazine, names Berwick upon Tweed in her top 10 places to ly your beach towel. Berwick is described as "A handsome seafront town boasting many well-preserved Georgian buildings, plus bohemian shops."
14th May 2008
Highlights from the DVD "Berwick-upon-Tweed A Town Apart" are now available on this website by kind permission of Rev Alan Hughes.
29th April 2008
Berwick Parish church launches a new website.Group tours of the church, together with a talk about Berwick, are available. Please contact the Rev Alan Hughes via the church website.
9th April 2008
A group of food enthusiasts in Berwick-upon-Tweed announces plans to celebrate the rich food heritage of this historic border town and the surrounding area, thanks to a grant of up to £49,800 from the Heritage Lottery Fund. The project is being run by Slow Food Berwick-upon-Tweed and will involve people in local communities researching, recording and presenting all aspects of food production and processing in their district in the past and the present. The town's name comes from the Anglo-Saxon "bere-wic", meaning "barley farm" and barley continues to be a staple of the local economy today. Although farming, fishing and cooking have developed over the centuries, traditional skills are maintained by many local farmers, fishermen and food producers. Salmon are still caught in the Tweed at Berwick using the age-old method of net and coble, bees make honey in hives scattered in the fields and hills of Northumberland, kippers are produced in the 19th century smokehouse at Seahouses and the cornmill at Heatherslaw still uses water power to grind flour for use by local bakers.
5th April 2008
Berwick Museum and Art Gallery reopened on Good Friday. The museum, housed wthin English Heritage's Barracks Museum complex has undegone a major refurbishment during its winter closure.
3rd April 2008
Berwick Borough council rejects three separate applications to build wind farms in the north Northumberland area. Most of the opposition was based around the visual effect of the turbines on the beautiful local Borders countryside. The applications are likely to go to appeal, so this is not the end of the story.
26th March 2008
The Sallyport Hotel on Bridge Street, Berwick, now has its restaurant open for non residents. Certainly not the cheapest but probably one of the best places to dine locally. The restaurant specialises in local Northumberland and Scottish Borders produce, with fresh sea produce coming straight off the fishing boats at Eyemouth. Have a look here for sample menus and how to book.
18th March 2008
The Ravensholme hotel is severely damaged by fire. The hotel is a few hundred yards from Ness Street, towards the top of Ravensdowne. The hotel did offer a good Indian takeaway service. At the moment there is no news about if or when the hotel might reopen.
15th March 2008
Visit Scotland publishes a list of cafes and tea rooms in the Borders region that have been recommended by their customers. If you want to plan day trips to some of the border towns and villages near Berwick around a good lunch or afternoon tea have a look at the cafe days website. Recommended establishments can be found in Melrose, Selkirk, Reston, St Abbs, Kelso, Peebles, Innerleithen and Ancrum.
13th March 2008
The Farne Islands Puffin count begins. The Farnes are a group of islands just off the Northumberland coast to the south of Berwick. They are famous for their bird and seal populations. Every five years the Puffin breeding population is surveyed by the National Trust wardens. The islands can be easily reached by boat from Seahouses and a visit is highly recommended.
12th March 2008
Four people are airlifted from the Holy Island (Lindisfarne) causeway by helicopter after attempting to cross one hour after the end of safe crossing time. Please consult the tide tables published by Northumberland County Council before crossing. The tables are posted at the start of the causeway, or can be found online. Your car insurance will not cover any damage caused by an attempted crossing outside of the safe period.
9th March 2008
The Barn at Beal opens on 12th March. This is a new vistor centre located on the approach road to Holy Island (Lindisfarne). Facilities include a coffee shop and restaurant, free visitors centre and outdoor walks and trails. This should prove to be a useful stopping off point after a visit to Holy Island,as the Island's cafes tend to get quite full at peak times.
7th March 2008
Berwick Borough council's planning committee approves the redevelopment of two key sites within the town. The Playhouse, Berwick's former cinema, will be demolished and replaced by flats. Just across the road from the Playhouse lies the former site of the hardware store J J Youngman, which has relocated within Berwick. This increasingly derrelict property will be replaced with flats and a restaurant.
17th February 2008
Berwick votes to move from England to Scotland.A TV programme that set out to explore the differences between public services in England and Scotland propelled Berwick into the national and international news. Polls carried out by both the TV program and the local newspaper indicated a majority of Berwick residents would prefer to be part of Scotland. Berwick itself has changed hands between England and Scotland many times. However, the suburbs of Spittal and Tweedmouth which lie to the south of the River Tweed have always been part of Northumberland, so a move to Scotland could possibly split the town in two. Some locals have suggested independence along the lines of Andorra or Monaco.
Ness Street is a member of the North Northumberland Tourist Association (NNTA)
Ness Street Holiday Cottage, Ness Street, Berwick upon Tweed, Northumberland TD15 1HY. Tel 01289 318069
UK Directory- we're listed on UKlinks.org